Use our Grant Guide to get some of the $108 billion designated for public transportation
Since the Bipartisan Infrastructure Law was enacted in November, 2021, more than $220 billion in grants have been awarded or allocated to nearly 35,000 projects in all 50 states and four U.S. territories. The law includes $108 billion for public transportation – the largest transit investment in U.S. history.
In passing the Bipartisan Infrastructure Law, Congress made a generational investment in our nation's infrastructure, funding numerous new programs that can be used by state and local governments to expand access to mobility, reduce carbon emissions, and improve equity by funding transit projects.
While many of the new programs come in the form of competitive grants, the law also includes increases in funding to formula funds for states, transit agencies, and local governments, along with significant changes to how formula funds are allocated. Both types of programs create major opportunities for transit agencies to get creative in applying for infrastructure bill funding, considering not just USDOT programs like the Urbanized Area Formula (5307) Grants, but also EPA and other broader climate, pollution prevention, and carbon reduction funding.
Let us help you craft winning grant applications
While fare collection is Genfare's business, elevating transit is at the heart of what we do. We're not just a vendor, we're your advisor, and together we can simplify the transit experience, empower equitable mobility, and connect communities. Furthermore, because grant programs can be used for Genfare solutions, it's in our best interest to look out for your best interests, and help our customers better understand the opportunities available to make transit better.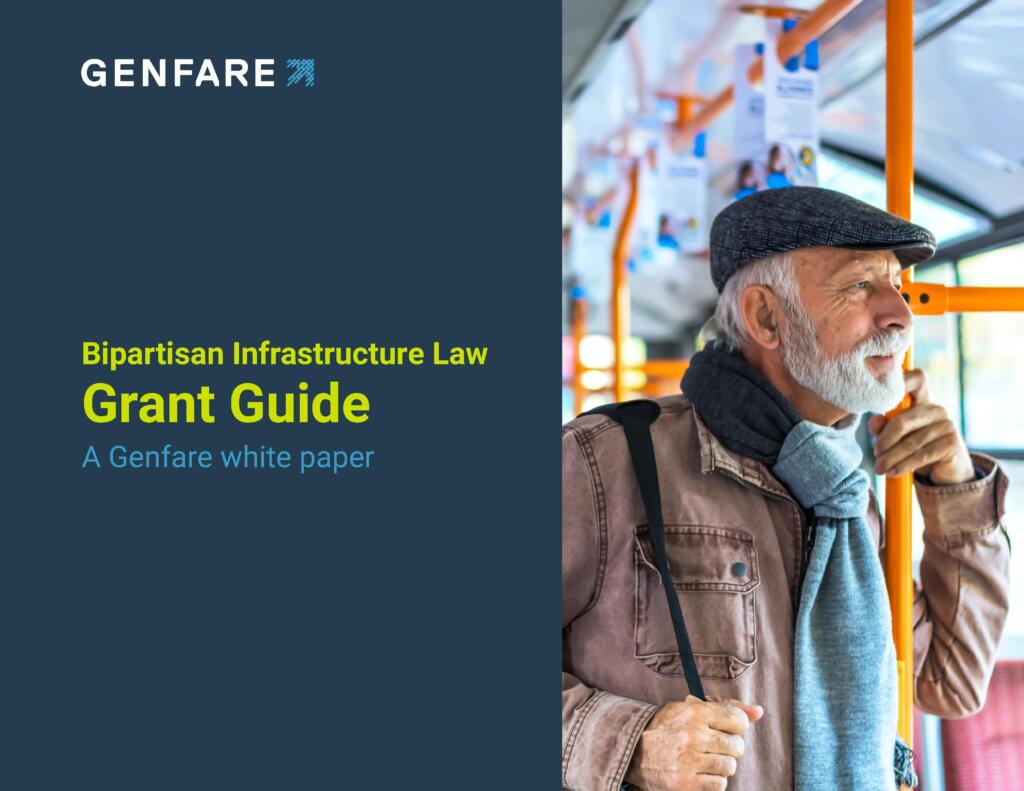 The Bipartisan Infrastructure Law includes numerous new programs that can be used by state and local governments to expand transit access, reduce carbon emissions and improve equity by funding transit projects.
While fare collection is our business, improved mobility is the heart of what we do. This grant guide includes many of the programs that were designed to inspire and fund better transit in the United States. Some of these programs can be used to fund and expand Genfare programs, but the purpose of this resource is to help our partner agencies better understand the opportunities that can make their transit systems better.
Genfare is your mobility partner – we're here to support you every step of the way, including funding. If you have questions about federal funding, contact us or reach out to your Business Development Director for support.
Journey with Genfare
We want to elevate transit, not just for riders, but also for the agency and the whole community. Learn how Genfare can help your agency increase ridership and raise revenue with our simplified, empowered, and connected equitable mobility solutions.